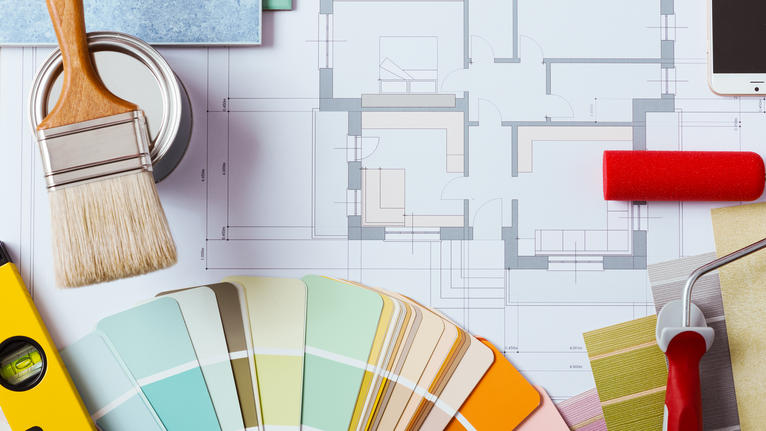 10 easy steps for a great interior design
We have gathered the top interior design advice into 10 easy steps to make your home makeover project a fun, enjoyable and successful adventure.
Step 1: Take the measurements of your room
Take measurements of your room and mark them out on a piece of paper. Then, add cut-out shapes of your furniture in order to find their ideal placement in the room, keeping in mind how people will move around the room.
Step 2: Identify the best natural lighting
Identify the source of the best natural lighting in your room, either from doors or windows, in order to decide where to place additional artificial lighting.
Step 3: Choose what to plan your design around
It's always a good idea to choose what objects, furniture or even floor coverings to plan your interior design around. The items you select should ideally be in the style which inspires your choice of décor.
Step 4: Decide on colours
Next, decide on the colours that you want to use in the room. In general, it's preferable to limit yourself to three colours, and then experiment by using variations of these and adapting them.
Step 5: Gather a colour patchwork
Gather a patchwork of materials in your chosen colourways to help project yourself in your future interior. Remember to take into account the furniture, curtains, walls, floors and doors to create a harmonious finish. To help you think about the ensemble, take a couple of photos of your room. That way, you can visualise how the colours and tones will look in the space.
Step 6: Start with the walls
Whether you choose paint or wallpaper, your walls will certainly be the main source of colour in the room unless you leave them in neutral tones to highlight colours being used elsewhere. If you're looking to make your room seem bigger, opt for bright or clear colours and contrast your walls with a white ceiling.
Step 7: Consider the floor
Using the patchwork of swatches, determine the material with which you want to cover your floor. Try to choose a floor colour that contrasts somewhat with the walls—for example two tones lighter or darker. Also think about how the natural light will reflect on the floor; lacquered or matte finishes will give quite different effects. The flooring can also contribute to give depth to a room, for example by using very long planks.
Step 8: Position your furniture
Once you've created the overall look of your room, position your furniture. Don't hesitate to try different combinations to see what works best. Add the finishing touches using decorative objects, without cluttering the space and keeping the colour balance.
Step 9: Prioritise your artificial lighting
Lighting plays a very important role in the room by shaping the space in the evenings and giving it a special atmosphere. When installing lighting, experiment by placing lights around the room. As hanging lights tend to visually narrow a room, a good option to consider are spotlights recessed in the ceiling, they provide a soft and more directive lighting.
Step 10: Own your style
By experimenting and looking at things from different perspectives, you'll develop an eye for what works for you. The web is also a great source of visual resources featuring professional photographers and interior designers: take a look around and get inspired.