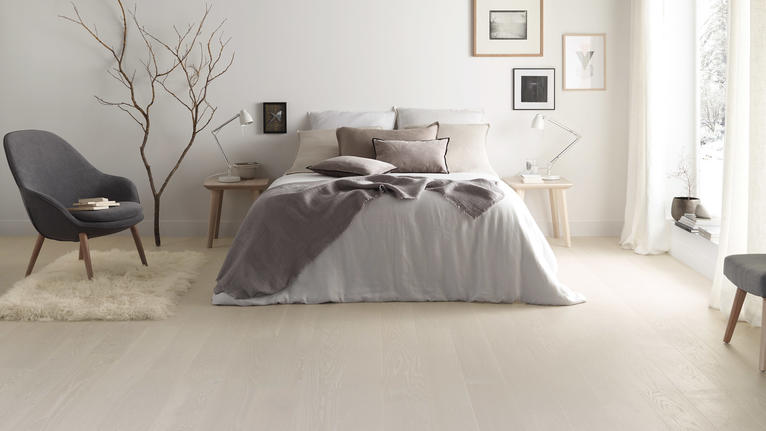 2019 Wood Flooring Collections
There's nothing quite like the beauty of a wood flooring. Its grain and texture bring a natural warmth to any interior, from bedroom to living room, kitchen to hallway. Tarkett's expertise in parquet dates back to the 1880s. Today, this skill and craftsmanship is the heritage that enables us to craft a naturally stylish range of floors that are durable, recyclable and easy to install. All of our wood floors combine the authenticity of tradition with exclusivity, long-lasting durability and different styles and shades to choose from. Whether you want the purity of soft and welcoming shades, vintage character or a bold, design-led look, our collection has a wood floor to enhance your home.
The story behind our wood floors
Tarkett's story has its roots in Sweden – a land rich in forests. From it has sprung a passion for wood and the skills of transforming it for the basic human needs of housing, furniture and flooring. From the beauty of nature to the hand of an expert, this know-how has passed from generation to generation of men and women at Tarkett ever since. While production has been transformed by modern means, the fundamental knowledge and craftsmanship remain. Read more about the story of our engineered wood flooring in our 2019 Parquet Magazine:
How to choose a wood flooring?
Our engineered wood floorings come in different wood species, designs, surface effects, plank widths and patterns to match every taste and lifestyle. Choosing one or the other of these options will help create different atmospheres, from the rustic wood flooring style to a more metropolitan and sophisticated look. For instance, wide wood plank floorings have become the trend and the wider planks you choose, the more sophisticated your interior will look.
Your new engineered wood flooring also needs to be tailored to your lifestyle, and choosing the right surface treatment and installation is equally important. Read our 2019 Parquet Magazine to learn more about these different options and how they can enhance your home's interior: 
Sustainability & Quality
Our wood floors are designed and made to help our customers create people-friendly indoor spaces. Our wood floors are Cradle-to-CradleTM Silver certified, which means they have been evaluated across five categories of human health and environmental impact. For example, they can be used for energy recovery and alternatively to create new products. We select our wood carefully mainly from sustainable forests in Sweden and Finland. We use the whole log, letting its grain and pattern form the design for beautiful, distinctive floors with natural warmth. We also work with the global organisations promoting sustainable forestry and biodiversity. More than 60% of wood supplied for production of wooden floors is FSC®  (FSC®-C008972) or PEFC™ (PEFC™/05-35-125)-certified. Read more about our Sustainable approach in our 2019 Parquet Magazine:
Installation & maintenance full solution
To give the perfect final touch to your floor, browse our selection of accessories, from wood skirtings to transition profiles, pipe collars or wood stair noses. And to maintain your floors on a daily basis, we offer a selection of Care Kits for different types of floors, as well as Repair Kits and refreshers to prolong the beauty of your floors.