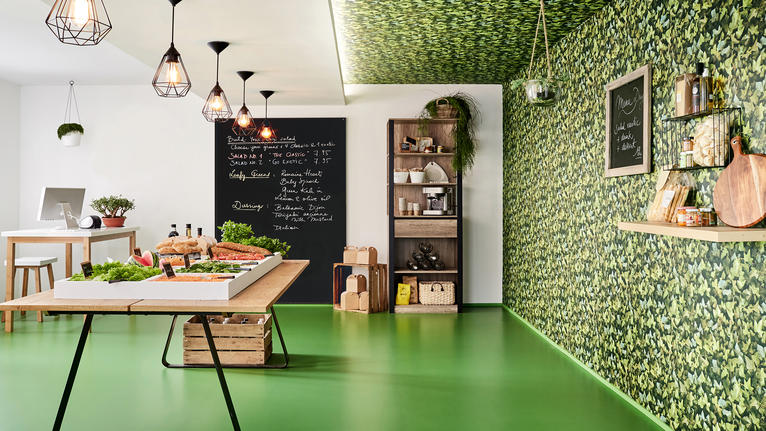 Designing for Life through Sustainable Design
Today, people spend the vast majority of their time indoors. That's why we are Designing for Life - to help you create healthier, people-friendly spaces. We are designing high quality, sustainable products. In particular, by continuously improving the health and environment credentials of our products, we strive to select materials that can be recovered, recycled and transformed into new products. And we're committed to being responsible stewards of natural capital – to helping conserve natural resources, mitigate climate change and preserve our planet's water supplies.
People-friendly Spaces
In a context of ever-increasing urbanisation, the built environment is becoming more and more prominent. Tarkett is committed to developing solutions that will enhance quality of life and wellbeing in indoor environments. This is particularly important when you consider that we spend 90% of our time indoors.
Indoor Air Quality: Tarkett offers products with TVOC emissions that are 10 to 100 times better than the strictest standards. 96% of our floorings are low TVOC.
Heathy components: Since 2010, Tarkett has proactively developed alternatives to phthalates, investing considerably in R&D. Today, all Tarkett vinyl products manufactured in EMEA are close to 100% phthalate-free.
Comprehensive assessment: Today, 96% of materials used in our products are continuously assessed by a third party according to Cradle to Cradle® criteria. Our goal is 100% by 2020. Tarkett optimises material selection according to Cradle to Cradle® assessment framework. iQ One, Desso Ecobase® carpet tile backing, Originale Linoleum and iD Revolution, reach Cradle to Cradle® Gold certification level.
Easy installation and maintenance: While eco-designing our products, we also take into account key sustainability benefits across the lifespan of our products:
- Easy installation and removal
- Easy and sustainable maintenance
Preserving Natural Capital
The plants, forests, water, rock and soils that provide us with the vital products and services we need to survive, including clean air, water, food, energy and places to live.
Preserving natural capital means acting as responsible stewards of nature's products and services, replacing fossil fuels with renewable energy, taking climate action, and reusing materials to conserve precious natural resources.
71% of our raw materials today are either recycled, rapidly renewable, or abundantly available in nature. By 2020, we aim to reach 75%.

In Europe, more than 60% of wood supplied for production of wooden floors is FSC®  (FSC©-C008972) or PEFCTM (PEFC™/05-35-125) certified.
Today, 67% of production sites are equipped with closed loop water circuits, or do not consume any water. By 2020, Tarkett aims to reach 100%.
By 2020, we'll reduce our greenhouse gas emissions, at our production sites, by 20%, compared to 2010 (in CO2 equivalent per product square meter produced). We do this through energy efficiency measures as well as green electricity supply or local production.
Solar panels are installed in our carpet facilities in Dendermonde (Belgium) and in Goirle and Waalwijk (the Netherlands), as well as on the roof of one of our key office buildings of our linoleum site in Narni (Italy).