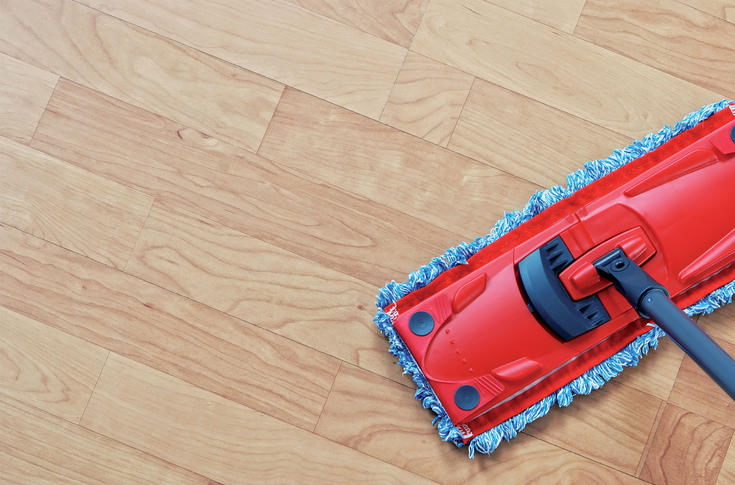 How to clean and maintain vinyl flooring
Vinyl floors are not only durable, stylish and simple to install, they're also easy to clean and maintain, making your life easy and your home hygienic.

Household cleanliness is receiving more attention now that people are working and studying from home in increasing numbers. Infections are often transmitted by hands or touch, which is why floors are unlikely to be a source of germs, particularly when cleaned and maintained in line with our recommendations for vinyl flooring. Mild detergents will remove dirt from both luxury vinyl tiles and vinyl rolls as part of a simple, gentle cleaning process to keep your floors more hygienic and at their best.

At Tarkett, all our vinyl flooring is coated with special surface treatment, making it even more resistant to scratches or stains and even easier to clean and maintain. The special PUR surface treatment that we apply to our vinyl floors means they're even better at resisting the scratches and stains of everyday life, which in turn makes floorcare easier still.

Over time, joints or gaps in a floor covering inevitably collect dirt which may harbour bacteries. Our cushion vinyl rolls, when installed without seams, are easy to clean to remove dust and dirt. Similarly, our Luxury Vinyl Tiles available in longer planks mean fewer joints and less space for grime to gather. And the vinyl tiles and planks, with their tight click locking system form a smooth, continuous surface that helps limit a build-up of dirt where bacteria can hide and multiply.

Helping keep you safe at home is part of Tarkett Human-Conscious Design™, our commitment to stand with present and future generations by creating flooring that's not only stylish, durable and great value but also good for people and the planet.
How to clean vinyl flooring
Cleaning vinyl floors requires a straightforward cleaning routine. Wiping or vacuuming is sufficient for cleaning your vinyl floor on a daily basis. Removing dust with a broom or vacuum cleaner avoids the build-up of dust and dirt and makes it easier to maintain your floors.
Every week, or more often if necessary, it's enough to wipe the floor with a damp mop or a cloth moistened with warm water and a neutral detergent. This helps to remove dirt and keep the floor in top condition. Keep in mind that you don't need a large amount of water to clean your floor.
How to clean up stains on your vinyl floor
Cleaning tougher scuffs and stains from your vinyl flooring is also relatively simple. Treat stains immediately, for example, by spot cleaning with a nylon pad and neutral detergent. Clean from the outside of the stain towards its centre, then rinse and wipe with fresh water. Here are some tips for cleaning different types of stains:
• Oil, vinegar or lemon stains should be removed right away as they may cause discolouration on the surface of your vinyl flooring. You can use a mixture of warm water and a neutral detergent to remove these stains.
• Ink, tomato or blood stains can be removed by putting very diluted alcohol directly on the stain for a few minutes without scrubbing, then rinse off with water
• Pen and marker stains are easily cleaned by rubbing with a little white spirit on a cloth and rinsing well with water
• Rust should be cleaned with an anti-rust sponge and rinsed off with water
Additional cleaning and care tips for maintaining and prolonging the beauty of your vinyl floor
• Place protective pads (like felt) under heavy furniture, chair and table legs
• Avoid rubber bottoms on objects resting on your vinyl floor – it may cause staining
• Use doormats at entrance ways to prevent dirt or dust from being brought inside and make cleaning easier. You can stop about 80% of dirt right there!
• Clean your floors with natural, soft or neutral detergents • Keep hot items like heaters, ashes or coals at a safe distance/height from your vinyl floor
Don't clean vinyl floors with:
• Abrasive powders
• Black soap
• Acetone or solvents
• Wax or varnish
• Oil-based products
• Steam cleaners
How to maintain vinyl flooring
By their very nature, vinyl floors are hardwearing, and water, scratch and stain-resistant. Tarkett vinyl floors, for instance, are manufactured with multi-directional base layers, which provide water resistance and high dimensional stability. They're also treated with a special PUR surface treatment, which provides extreme protection and makes them even more durable and resistant to scratches or stains, and even easier to clean.

As a result, if you follow the basic cleaning routine above, there's very little need for any ongoing maintenance of your vinyl floors. Unlike hardwood, for instance, you don't need to apply wax or polish the surface to restore shine. A deep clean with soap and warm water is all that's needed to restore vinyl's original appearance. However, vinyl is not indestructible, and it's essential to take the correct measures to keep your floor in good condition.
How to repair vinyl flooring
How to repair your vinyl flooring depends on the type of product you have and how it's damaged.
In the case of LVT, some manufacturers suggest that you can replace individual damaged tiles, while others suggest that doing so would compromise the integrity of the installation.
In the unlikely case that you should replace a damaged plank of Starfloor Click Solid 55 luxury vinyl tiles:

- Cut inside the plank with a cutter to remove the damaged plank. Then remove tongue and grove in each corner of the empty space. Before installing a new plank, use a hot air blower to make it softer.
- Insert first the long side and press it under the groove on the short side.
- When placed and clicked, just press the tongue in the groove on the other side.

To replace a damaged plank of Starfloor Click 30 luxury vinyl tiles:

- Cut around the plank (following the joint) with a cutter.
- Remove the damaged plank. Then take a new plank and cut its groove and tongue. Before installing this plank, make sure you respect the design orientation.
- The replacing plank and the surrounding ones should be fixed to the subfloor using double-sided tape. Make sure you roll and press all these planks properly to ensure their good bonding to the floor.

In the case of sheet vinyl, repairing damage can require a few technical steps to fuse the surface or patch in new material. Sometimes, smaller cuts and scratches can be fused with a liquid seam sealer. While this is technically possible, it's quite a difficult procedure and the results are not usually aesthetically appealing.
It's a good idea to follow the manufacturer's recommendations in regards to the best way to clean and maintain your vinyl flooring, including how to carry out repairs.
How do you make vinyl floors shine?
The availability of vinyl flooring in a vast range of colours, patterns and textures means that you can find a flooring finish that perfectly matches your style preference. And, due to its ability to mimic natural materials, many consumers are choosing vinyl as a practical and low-cost alternative to more expensive wood, tile, and stone flooring options. They're also seeking out the more natural, toned-down beauty of matte finishes, which is currently on-trend.

However, if you are looking for a shinier look, you can choose vinyl flooring with a high-gloss finish. Keeping them shiny will then simply be a matter of keeping them clean and dirt and dust-free. Unlike other types of flooring, such a real hardwood, there aren't specific products designed to make your vinyl floor shine. Instead, following the basic cleaning routine ensures that your vinyl floors look as good as the day you laid them.
Can you polish vinyl floors?
Unlike some flooring options, such as hardwood or stone, which need regular maintenance, vinyl flooring is very low-maintenance. All Tarkett vinyl flooring, for example, is already protected with a reinforced polyurethane surface treatment and therefore doesn't require waxing or polishing. Instead, a simple cleaning routine is all that's need to maintain your vinyl floor's original appearance.
How to lay vinyl flooring
Read our easy guide on how to fit vinyl click flooring, vinyl sheets, tiles or planks in your home.
Different types of vinyl flooring
Read more about the different types of vinyl floors and how they are made.