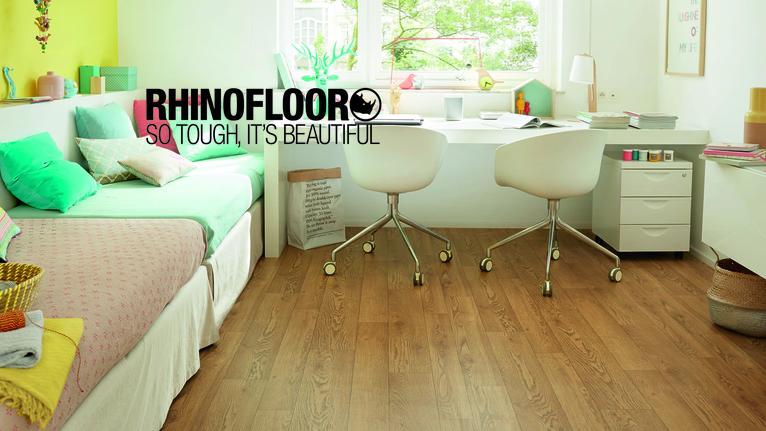 RHINOFLOOR CUSHIONED FLOORING. Tough. Affordable. Stylish. It's everything you need to create your perfect home.
If you're looking for a stylish and affordable flooring which can be laid in all areas of your home, then Rhinofloor cushioned flooring is for you.
Available in a wide array of inspirational designs and styles, from traditional woods to contemporary tiles, Rhinofloor will give you the look you're searching for.
Cushioned flooring is much more versatile than it used to be and is now suitable for every area of the home, even able to handle the hard-working areas of the kitchen and bathroom.
The Collection
Our Contemporary Tiles collection offers a refreshingly stylish selection of flooring designs for the modern home. 
Our Contemporary Timber collection is a strong selection of modern and on-trend wood designs for the modern home.
Our Elite Tiles collection offers a great mix of traditional and contemporary tile designs for the inspirational home.
Elite Woods offers a carefully selected range of on-trend and elegant wood designs for the home. 
A high-quality collection of bold and natural colours for a stylish and understated look in your home. 
Original Tiles is a welcoming collection of classic tile flooring designs. Elegant and traditional, our Original Tiles collection is the sophisticated choice for a stylish home. 
Warm and friendly. The Original Timber collection offers a timeless and elegant selection of flooring designs, destined to give your home a classic look for years to come. 
A strong and hard-working collection of indulgent and stylish flooring designs. Super Deluxe will provide all the comfort you desire and continue to look stylish for years to come.  
A strong-selling collection due to its affordability and great mix of traditional and modern designs to fit any home. Tough, practical and hygienic, XL Supergrip is resistant to scuffs and scratches giving you a long-lasting surface which is not only waterproof, but also easy to clean.